Digital Marketing & Web Design
Grow your business & reach your ideal customers
Partner with the digital marketing agency proven to deliver results (that's us). We help small businesses grow by building beautiful websites and helping them get found on Google.
Growth-oriented digital marketing services
Lead generation digital marketing
Ready to leverage digital marketing and
grow your business?
We serve growth-oriented companies with web design, PPC, and SEO to grow their business and generate better leads. We build high-end websites AND get them in front of your customers on Google.
Making a difference for our clients
We aren't your average digital agency. We're much more.
We believe in building long-lasting relationships with our clients – we prefer to be growth partners. We believe everyone deserves honesty, transparency, and real results. We believe that web design, SEO, and PPC has the power to transform the businesses of our clients.
Frank Schaefer, founder & CEO
Driving business growth through digital marketing services
"I am so thankful for Frank's advice, attention to detail and the utmost professionalism. Highly recommend him to guide you through to get the most out of your website and your desired results!"
Real Estate Agent || REMAX
What makes us the
best

Digital marketing agency?
"Frank did an amazing job creating my website! If you are looking for a professional-looking website tailored to your business needs, look no further. I can't not give him enough credit for the amazing job he did! Frank asked us everything that we wanted for our site and delivered above expectations! "
Director || Crossroads Learning Center
Frequently asked questions
Fenton, Michigan - November 19th, 2021 - Ciitrus Digital has been chosen as one of
Read More ❯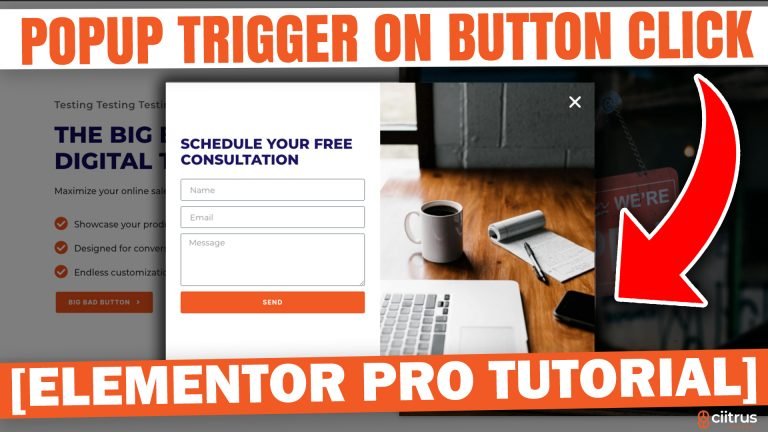 Hey everyone! It's Frank with Ciitrus Digital. In this Elementor Pro tutorial, I am going to show you how to easily trigger an Elementor Pro popup by clicking a button, or an image!
Read More ❯
Step 1: Reach Out to us Say hello! Submit a contact form, schedule a free
Read More ❯