Get better leads with targeted PPC advertising
Drive more conversions with your advertising budget.
Do you wish you had a consistent flow of high-quality leads?
That's our specialty. Book a free strategy call with us – we'll teach you exactly how PPC can generate steady leads for your business. There's no obligation to work with us and no high-pressure sales tactics. We want to see you succeed.
Get Results with PPC advertising
Our proven PPC management process
We approach researching, building, launching, and managing your PPC campaign with our proven process.
#1: Create a campaign action plan
We'll research your industry, competitors, location, and existing assets to determine what the next step is. Running a preexisting PPC campaign? We'll evaluate that too!
#2: Custom PPC campaign
We'll build your campaigns from scratch so they are aligned with your business, goals, and target audience. We keep constant communication and position you to receive new leads & traffic.
#3: Launch, optimize, and scale
We don't launch your campaign until you are given a full walkthrough and grant your approval. Your dedicated client manager will keep you updated and work hard to optimize & scale your campaign.
#4: Monthly reporting
Once your campaign goes live, we'll provide monthly reports to keep you updated on your campaign's progress. We'll be available in person, or through the phone/Zoom to answer any questions.
comprehensive ppc management services
Everything you need for a successful PPC campaign
We provide every service needed to create and maintain your wildly successful paid ad campaign.
Competitor & market analysis
Campaign creation
Development of ad copy
Ongoing campaign optimization
Detailed monthly reporting
Ad split testing
Landing page creation
Call tracking
Conversion tracking
Advanced bid management
We believe in transparency at Ciitrus Digital. We won't hide anything from you. The campaign belongs to you, so you'll have full access.
Complete campaign access
The campaign belongs to you - that's why you will always have full access and ownership of the account.
You'll own everything
You'll own all of the ad copy, media, and all other applicable IP. Should you choose to leave it's yours.
Honest monthly reporting
Fluff-free reporting. We will report the metrics most important to your campaign goals with honesty.
No long-term contracts
Your needs change all the time, that's why we give you the freedom to do what's best for your business.
Real humans
Your ad campaign will be managed and monitored by real, certified experts - no robots here.
Rock solid communication
We're available to meet in person, over Zoom, or on the phone. It's our job to keep you informed.
Schedule a free consultation
Take the first step by scheduling a call. We'll discuss your business goals and determine if we're the right partner for you.
We aim to be your partner in growth. We believe in communication, relationships, honesty, and results.
If we determine we're the correct partner for you, we'll schedule an in-depth discovery call with all your decision makers present!
Frequently asked PPC management questions
PPC stands for pay-per-click. PPC is a type of digital advertising where you don't pay until a user has clicked on you ad – giving much more flexibility and greater return on ad spend.
PPC ads work much more quickly than tactics like SEO or organic content marketing. Once your ad campaign goes live you can drive results immediately.
However, the first month of running a PPC campaign is all about testing and gathering market data. On average we tell our clients that you will see results by the end of 90 days.
PPC management tips & tricks
Our blog is full of our best PPC tips and tricks. We are passionate about generating revenue through PPC and love to share what we learn on the blog.
Web Design
Fenton, Michigan - November 19th, 2021 - Ciitrus Digital has been chosen as one of
Read More ❯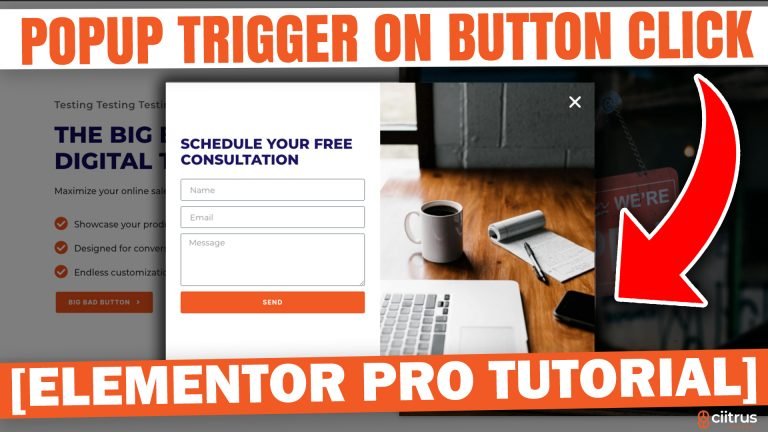 YouTube Videos
Hey everyone! It's Frank with Ciitrus Digital. In this Elementor Pro tutorial, I am going to show you how to easily trigger an Elementor Pro popup by clicking a button, or an image!
Read More ❯
Web Design
Step 1: Reach Out to us Say hello! Submit a contact form, schedule a free
Read More ❯